Latest iPhone 14 Leaks & Rumors 2022!
Find out what color, size, and body the new iPhone 14 will have today!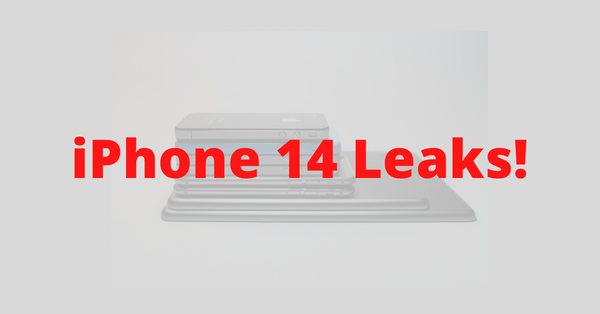 If you're someone who is awaiting the release of the iPhone 14, I have some news for you. In this article, I will tell you about leaks, rumors, and much more about the upcoming iPhone 14!
You may have heard about the iPhone 14, but did you know that Apple will launch it in 2022? This year, Apple has planned to launch a new model of iPhone which is expected to be called "iPhone 14".
The information about this has already started making rounds on social media platforms such as Twitter and Reddit. So, let's dig deeper into these rumors and leaks in this post below:
Quick Cue: According to MacRumors, iPhone 14 is set to be in the process of mass production in June-August and it will probably be launched in the first or second week of September.
Rumored Features: What To Expect in iPhone 14?
Apple has been heavily rumored to be releasing a new iPhone model this year, and the leaks have been coming fast and furious.
I don't know whether or not there will be an iPhone 14 (but I'm sure it'll be called that), but I do know that it'll have a new design with an edge-to-edge OLED display, and many other features according to the rumors/leaks going around.
So, let's talk about them in detail.
Body Design
Though Jon Prosser (Leaker) claimed that the iPhone 14 will have a different body design, it's not true based on the previous incorrect rumors he shared.
Regardless, alleged renders have said that the iPhone 14 will look exactly like iPhone 13. The phone will have a standard notch and the exact same camera bump at the back. Let's see what happens to the body of the new iPhone model in September!
iPhone 14 Colors
According to one leak, the new iphone 14 will come out in Purple. Both iPhone 14 and Pro models will come in purple shade with a finishing touch that will make the hue shift based on the available light.
That said, if this rumor is true, you can expect the iPhone 14 and 14 Max in black, blue, white, red, and purple while the iPhone 14 Pro Max will come in graphite, silver, gold, and purple.
No Mini iPhone
Along with other rumors, it's expected that there will be no iPhone 14 mini this time. As they lack sales in this version of previous models, so no iPhone 14 mini. However, they might increase the size of camera bumps in other iPhone 14 versions.
ProMotion Display
You know, it's funny: the iPhone 14 is coming out this year, and there are rumors about it. But the big thing everyone wants to know about is when Apple will finally release the iPhone 14.
Well, the truth is that there could be some truth to those rumors, but not many of them.
One thing I know for sure: The Pro models of the iPhone 14 will be the only ones to offer ProMotion displays with refresh rates up to 120Hz.
That means if you want a fast-reacting screen on your new phone, it's going to be an iPhone Pro Max or Pro model. But don't worry!
It looks like Apple is going to restrict that technology to these high-end phones. That's because according to Ross Young, display analyst at IHS Markit, availability of the necessary displays isn't great yet.
Young has also said that he believes 120Hz refresh rates will remain an iPhone Pro Max or Pro feature—but that's not necessarily true either! It could be that all four models will have this technology, so it's anyone's guess what Apple will do!
Titanium
Apple has been using stainless steel in all iPhone models until now. However, it's expected that this time, the iPhone 14 will come out in Titanium. Apple has already used Titanium in Apple Watch and this would be the first time if Apple created an iPhone out of Titanium.
Cooling
Apple iPhones usually get hot when under stress as they carry vapor chamber thermal systems. However, this time the company is working on vapor chamber cooling technology to keep the iphone cool when in stress. Let's see if the new iphone launch is successful with this technology.
The Bottom Line
You have read about a lot of leaks and rumors surrounding the iPhone 14. However, nothing has been confirmed by Apple.
There are still only rumors about the iPhone 14 and we will have to wait until September 2020 before we know what Apple has in store for us.
Until then, let me know in the comments if you want to see an iPhone with a bigger camera bump on the back or if you prefer a purple color in your next phone?