How To Set Up Voicemail on iPhone 13 Pro Max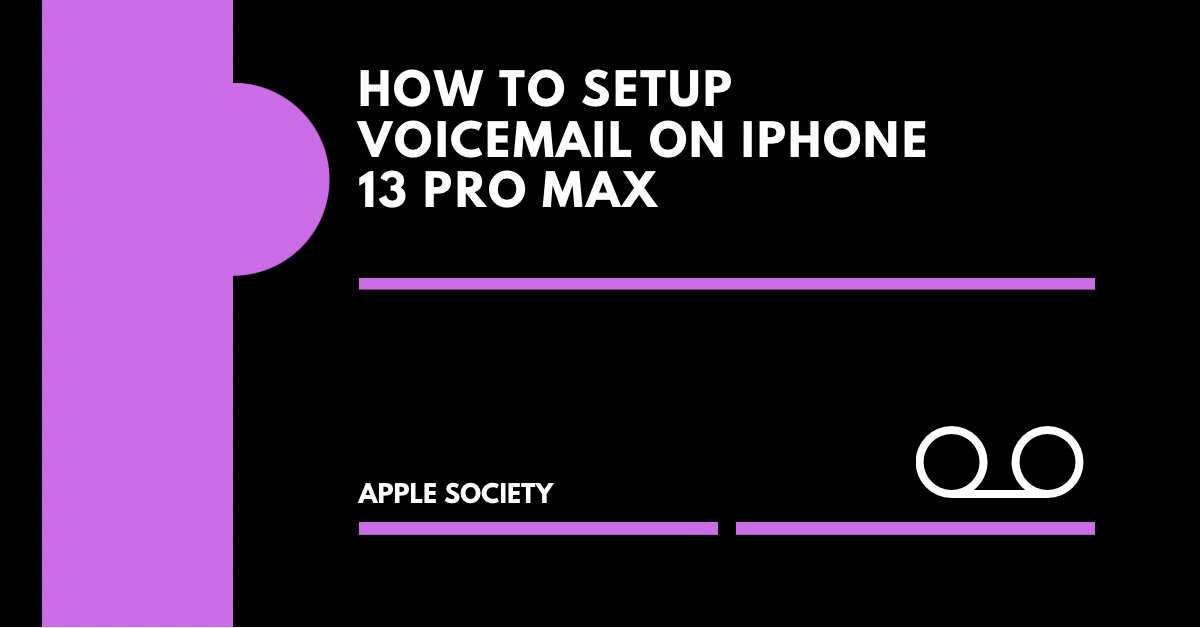 If you're like most people, you rely on your voicemail to take messages when you can't answer the phone. But what happens if you switch to a new iPhone 13 pro max and don't know how to set up voicemail on it?
Don't worry - it's actually pretty easy! This guide will show you how to set up your voicemail on iPhone 13 Pro Max.
Let's get started!
Quick Cue: To set up voicemail on your iPhone 13 Pro Max, make sure you have a carrier that supports voicemail. If you aren't sure whether or not your carrier offers this service, contact them directly to find out.
Here's How You Can Set Up Voicemail on iPhone 13 Pro Max
Setting up voicemail on iPhone 13 is a quick and easy process.
What you need to do is simply follow the next steps:
When the voicemail is set up, you'll be prompted to choose a password for your voicemail, as well as to select a greeting. Once you've done that, your voicemail will be ready to use.
If you have any questions or need help troubleshooting, don't hesitate to reach out to your carrier's customer support team.
When your voicemail is set up on your new iphone, you might want to know where to find the voicemails sent by people.
The method is quite simple.
Here's How To Check Voicemail On Your iPhone 13 Pro Max
With voicemail, you don't have to worry about missing important calls when you can't answer your phone. Voicemail is a service that allows callers to leave a recorded message for you to listen to at your convenience.
While the process of setting up voicemail can vary depending on your service provider, checking your voicemail is generally a simple matter of opening up the voicemail tab in the Phone app.
From there, you can listen to messages and choose to delete them or keep them. If your iPhone doesn't support Visual Voicemail, you can still access your voicemail through the Phone app, though you may need to follow additional prompts.
You can also ask Siri to play voicemails from specific contacts. Whether you're using Visual Voicemail or not, checking your voicemail is a quick and easy way to stay on top of your communications.
Apart from that, there's another simple method to check voicemails. You just need to follow the next mentioned steps:
Open the Phone app and select Voicemail.
From there, you can choose which message you want to listen to and whether or not you want to delete it.
And That's it!
Voicemail: Tips & Tricks
Just like email and text messaging, voicemail has come a long way in recent years. If you're still using your iPhone's default voicemail settings, you're missing out on a lot of features that can make your life easier.
For example, did you know that you can change your voicemail password directly from your iPhone? Or that you can adjust the sound that plays when you receive a new voicemail?
Here are some of our favorite tips and tricks for making the most out of your iPhone's voicemail features.
Change the Password of Your Voicemail
To change your voicemail password, navigate to Settings > Phone > Change Voicemail Password. Here you can enter in a new password.
This is a great way to keep your messages safe and secure, especially if you use your voicemail for work or personal matters.
Change the Alert Sound of Your Voicemail
Change the voicemail alert sound by going to Settings > Sounds & Haptics or Settings > Sounds. Here you can scroll through the list of sounds and choose the one that you want to use for your voicemail alerts.
This is a great way to customize your iPhone and make it feel more like yours.
Get a Transcription of Your Voicemails
If your iPhone 13 supports voicemail transcription, you can tap on a message received in your Voicemail and see its transcription on your iPhone.
Conclusion
Voicemail is an important part of any phone plan, and with the new iPhone 13 Pro Max, it's easier than ever to set up voicemail and manage your messages.
In this post, I have walked you through all the processes of setting up voicemail on your iPhone 13 Pro Max. If you have any questions, comment them down and I'll get back to you asap!
FAQs
Why is voicemail not available on my iphone?
If you've ever tried to access your voicemail on an iPhone only to find that the feature is unavailable, you're not alone. There are a few possible reasons why voicemail might be unavailable on your iPhone.
One possibility is that you need to reset your network settings. You can do this by going to Settings > General > Reset > Reset Network Settings.

Another possibility is that your carrier doesn't support visual voicemail. You can check Apple's list of wireless carriers to see if this is the case.
Finally, it's possible that there is an outage with your carrier that is affecting your service. If you think this might be the case, you can try contacting your carrier to see if they are aware of any issues.
How do I recover my deleted voicemails?
If you accidentally delete a voicemail on your iPhone, don't worry - you can usually retrieve it. To undelete a voicemail, open the Phone app and tap on Voicemail.
Then, tap on the Deleted Messages tab. Here, you'll see a list of all the voicemails you've deleted. To undelete a voicemail, simply tap on it and then tap the Undelete button.
Keep in mind that this only works for voicemails that were deleted within the last 30 days.
If you try to undelete a voicemail that's older than that, you'll see a message saying "This message can't be undeleted." So if you accidentally delete an important voicemail, make sure to undelete it within 30 days!