How To Retrieve Notes From iCloud
Want to recover deleted notes? Read this post to learn how to retrieve deleted notes from iCloud!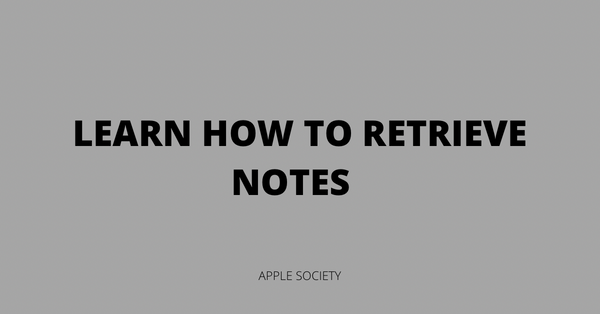 Notes are the little snippets of information you have on your iPhone, iPad and Apple Watch. They come in handy while you're trading emails to your friends, or jotting down notes for yourself.
But if you deleted the notes from your iPhone, iPad, or computer, there's a way to get them back!
Wondering what's the way? It's iCloud.
iCloud is an exciting service that offers a lot of conveniences, and it's not just limited to the iCloud Drive cloud storage app but can also save your important notes from getting permanently deleted.
I have pulled off this blog to help you out on getting your deleted notes back. Read this post to learn how to retrieve notes from iCloud.
Here's How To Retrieve Notes From iCloud
There are several ways that you can apply and try if your notes get retrieved. However, I'm jotting down the best ones so you don't waste your time.
Number 1: Retrieve Notes From Cloud
iCloud saves all of your data in your iPhone and other Apple devices connected with the same Apple ID. Thus, using this method will surely help you find your deleted notes. Just follow the steps:
Fun Fact: You can only retrieve notes within 30 days of deleting them.
Step 1: Visit iCloud.com on your Safari browser.
Step 2: Login with your Apple ID
Step 3: Tap on the "Notes" option and select the Notes you want to retrieve.
Step 3: Now, you have to tap on the "Email" button and add your email in the "recipient" option so iCloud sends your deleted Notes to you.
Step 4: Open your email inbox and find the attached file of your deleted notes.
Number 2: Check the Recently Deleted Folder
If you find it hard to retrieve notes from iCloud, you can simply recover them from the Notes App. Just follow the steps:
Open the Notes App
Tap on the Folder button. It will take you back where you will be able to see different folders.
Click on the "Recently Deleted" folder.
You will find your deleted notes.
Now what you need to do is select the deleted Notes and move them to your primary folder and voila! Your notes are retrieved!
Method 3: Retrieve Notes From iCloud Backup
To retrieve notes from iCloud Backup, please follow the steps below:
Make sure that the computer you're using is connected to the internet.
Go to Settings > iCloud > Find My iPhone, and sign in with your Apple ID.
On the Find My iPhone page, click Restore From Backup.
Click Choose Backup Set, select the backup set you want to use, and click Next.
You'll see a list of messages or notes from which you can choose one or more items to restore—select them by clicking on their icons or names. (If you don't see any items listed for a specific message or note, click Show All Items.)
Click Done when finished selecting items for restoration and then Close when finished tapping on them to select them as options for restoration from iCloud Backup!
The Bottom Line
There you have it. This is how to retrieve notes from iCloud.
Notes is a great app to keep all your important information in one place.
Remember, though: if you want to be able to access your notes offline and on other devices, you should look into storing them on iCloud Drive instead of iCloud itself.
Let me know if you have any questions in the comments below.