How To Downgrade From MacOS Monterey To MacOS Big Sur?
Learn how to downgrade MacOs Monterey to MacOs Big Sur!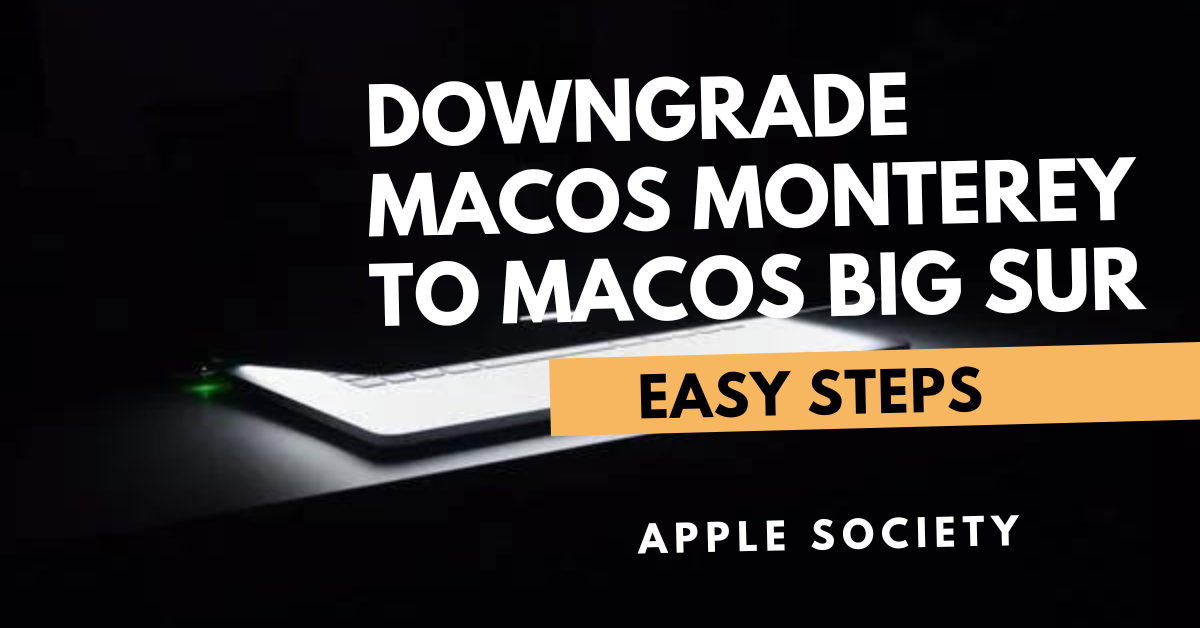 MacOS Big Sur 2022 is the latest operating system from Apple, and it's a significant upgrade over macOS Mojave.
If you upgrade your Mac to macOS12 Monterey but tend to face stability challenges or make the original functionalities unimpressive, you can always downgrade to Big Sur.
Now you may be wondering how to downgrade to macOS Big Sur. This process can seem a bit daunting at first, but it's actually pretty simple.
In this guide, we'll walk you through the steps needed to downgrade your operating system. So, if you're ready to go back to macOS Big Sur, keep reading!
Before we explain how to Downgrade From macOS Monterey To macOS Big Sur 2022, let us address the prerequisites for downgrading.
Prerequisites For Downgrading
To downgrade, take a complete backup of the Mac before installing macOS Monterey (from Big Sur).
In this way, you can always go back to the previous version of macOS if something goes wrong.
An active internet connection is also required as some files need to be downloaded as part of the downgrade process.
That said, the following are some prerequisites for downgrading:
Creating a bootable macOS Big Sur installer drive is proper when you want to reinstall macOS X on your Apple computer. With this build installed, you can reinstall the operating system at any time and have access to essential recovery tools. Creating a backup of your current MacBook or iMac will ensure nothing is lost when upgrading to macOS Monterey (or any other macOS Mojave version).
After backing up your Mac, go to the App Store and grab the macOSBig Sur setup. It's 12 Gigabytes, so you have to wait 1-2 hours for it to finish streaming.
After that, you must concentrate on making a bootable macOS Big Sur USB. You'll need an empty flash disc with at least 16GB of disk space. After that, you'll need to format it in the macOS Extended file system.
Here's How You Can Downgrade MacOS Monterey To MacOS Big Sur
Following are some steps to configure macOS Big Sur on your system:
MacOS Big Sur is currently available for download. Continue on the macOS Recovery for Big Sur menu by selecting Reinstall macOS Big Sur.
On the macOS Big Sur installation, choose Continue.
Accept the licensing agreement terms and choose Macintosh HD as the installation location.
Then, to install the operating system, pick Continue and follow all on-screen prompts.
Here's How You Can Setup Big Sur and Migrate Data
After installing macOS Big Sur, your Mac may want you to connect to the internet so that it may activate itself.
To connect to a Wi-Fi hotspot, use a cable connection or pick the Wi-Fi symbol in the top-left corner of the screen.
That being done, you will have to follow the following steps:
The Setup Assistant will appear.
Select your nation or region and follow the onscreen steps to install the updated macOS Big Sur copy on your Mac.
Pick the From a Mac, Time Machine backup, or Startup disc option to restore from a Time Machine backup.
You may also recover your data after you've done configuring your Mac. To do so, launch the Launchpad and navigate to Other and then Migration Assistant.
Final Words
The steps outlined above should have enabled you to downgrade from macOS Monterey to Big Sur.
If you wish to upgrade to Monterey later, open the Apple menu, go to system preferences and software update, and click 'Upgrade Now.'
That said, we are concluding this post. Let us know if you have any queries.