6 Easy Steps On How To Use iPhone As A Mouse For a Mac
Facing trouble using your Mac's mouse? Use your iPhone instead! Read this post to learn how.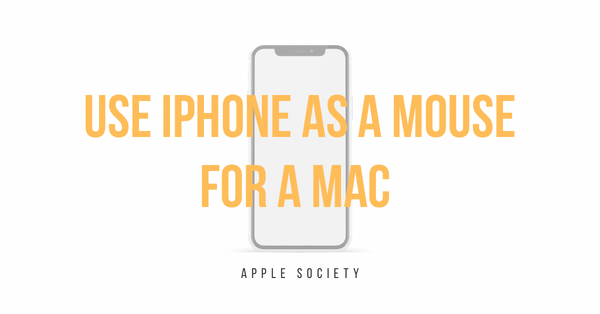 When you think of an iPhone, you might not immediately think of it as a potential mouse replacement for your Mac. The iPhone is one of the most versatile devices on the market, capable of performing a wide variety of tasks.
One such task is acting as a mouse or trackpad for a Mac computer. This can come in handy when you're in a pinch and don't have access to a traditional mouse or trackpad.
I have mentioned some easy steps below to teach you how to use an iPhone as a mouse for a mac. Continue reading to learn more.
Follow These Steps To Use Your iPhone As A Mouse
Here's how to use your iPhone as a mouse with your Mac:
Make sure your iPhone and Mac are connected to the same Wi-Fi network.
On your iPhone, open the Control Center by swiping up from the bottom of the screen.
Tap the "Screen Mirroring" icon.
Select your Mac from the list of available devices.
Your iPhone's screen will appear on your Mac, and you can use it as a mouse or trackpad. Simply move your finger around on the screen to control the cursor, and tap to click.
When you're finished using your iPhone as a mouse or trackpad, press the "Home" button on your iPhone to exit Screen Mirroring mode.

Once you have done this, you will be able to use your iPhone as a trackpad by opening the "Remote Mouse" app on your device.
You can then use your iPhone to navigate your Mac just as you would with a regular mouse or trackpad.
So next time you find yourself without a mouse or trackpad, don't panic—just grab your iPhone and put it to work.
Alternative Method: Use Remote Mouse App
The Remote Mouse app is a great way to control your PC or Mac from your iPhone.
Simply download the Mac/PC version of the software, and open the Remote Mouse app on your iPhone.
Tap on 'Start' and it should automatically connect if your iPhone and the Mac/PC are on the same Wi-fi network. That's it!
If it doesn't connect automatically, you can enter the IP address of your PC/Mac manually too by tapping on the small IP search icon.
Conclusion
If you are looking for a way to make your work easier, using your iPhone as a mouse for a mac is a great option. It is an easy process to set up and can be done in just a few minutes.
I hope all of your concerns like, "can you use iPhone as a mouse for mac?" are addressed. Let me know if you have any questions in the comments below.